In recent years there has been national momentum to gather data and develop measures to assess the cost of health care services. Through generous funding from the Robert Wood Johnson Foundation (RWJF) and the pioneering support of Oregon data suppliers and stakeholders, Q Corp has been able to be a part of this national conversation through several partnerships and projects. Our shared goal is to help multiple stakeholders achieve the Triple Aim outcomes of a healthy population, exceptional patient care and affordable costs.
Measuring Total Cost of Care
The Total Cost of Care (TCOC) measures Q Corp is using were developed by HealthPartners®, a large nonprofit integrated health care organization based in Minnesota, and have been in use for over ten years. The two measure components, which are endorsed by the National Quality Forum (NQF), are the Total Cost Index (TCI) which looks at the overall cost effectiveness of managing patient health, and the Resource Use Index (RUI) which looks at the frequency and intensity of services used to manage patient health.  
As a part of the RWJF funding and a national project led by the Network for Regional Healthcare Improvement (NRHI), Q Corp and other regional multi-stakeholder health improvement collaboratives have successfully produced reports for primary care clinics and national benchmarks comparing Total Cost of Care across regions.
Additional work of the Regional Total Cost of Care project has allowed Q Corp and other regional health improvement collaboratives to further develop their cost of care measures, use longitudinal data to evaluate trends, examine the impact of risk adjusters, and continue working toward standardization.
Clinic Level Reporting
A key element of Q Corp's Total Cost of Care work are the Clinic Comparison Reports, which enable primary care clinics in Oregon to see customized information on:
Cost, resource utilization, and price index at the clinic level
Detail for inpatient, outpatient, professional and pharmacy claims
A statewide average for all measures

The Clinic Comparison Reports are released to primary care clinics in Oregon on an annual basis.
Health plans contributing cost data to the Data Collaborative receive similar information on all included clinics, even those outside the plan's network.
State Level Comparison
In addition to the national benchmark work in which Q Corp participates through the NRHI project, Q Corp has also produced a state level snapshot view of how clinics are preforming on the Total Cost Index vs a Q Corp developed Quality Index on a regional level, allowing stakeholders and policymakers to quickly identify differences across the state.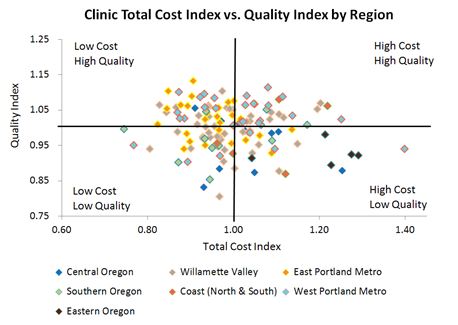 Cost of Care Steering Committee (view roster)
Q Corp convened the Cost of Care Steering Committee in the summer of 2014. The Committee's charge is to guide Q Corp on the implementation of cost of care and payment reform products and services, and to inform the development of new related products and services. Much of 2014 and 2015 were spent on the format and content of the clinic comparison reports and strategy development around implementation and communications. The Committee has also considered the various audiences that would find cost analyses useful.  
Physician Engagement
In 2014 and 2016, the Network for Regional Healthcare Improvement (NRHI) hosted two National Physician Leadership Seminar at Stanford University. Dr. Arnie Milstein of the Clinical Excellence Research Center, hosted the seminars which brought together physician leaders from multiple states to discuss why and how Total Cost of Care information might be used to improve quality and reduce costs. Q Corp attended the seminars with physician champions and Cost of Care Steering Committee members.
Watch the videos below (some starring Oregon's own Stephen Hale, MD) to learn more >>>
Webinars
Please view this webinar recording, which is an in-depth look at cost, quality and utilization reports. We reviewed the measures and reports, and answered questions from medical group particpants who attended the webinar live.
             Q Corp Clinic Comparison Report Review - What it Means for Your Medical Group
             June 30th 2016
 Watch the Recorded Webinar >>>
National Collaboration
Learn more about the Regional Total Cost of Care project at the NRHI website
Read the NRHI regional benchmarking report released in January 2018 "Healthcare Affordability: Untangling Cost Drivers"
Read the NRHI regional benchmarking report released in January 2017 "From Claims to Clarity: Deriving Actionable Healthcare Cost Benchmarks from Aggregated Commercial Claims Data"
View the Oregon presentation at the NRHI Affordability Summit in September 2017
Medicare Total Cost of Care Issue Brief
Local Reporting
Sample Clinic Comparison Report
Quality Composite Measure Methodology
Total Cost of Care Methodology
View additional references for the HealthPartners® measures and Johns Hopkins risk adjusters
Learn more about the measures at the HealthPartners® website
Contact Us
Email Q Corp's Cost of Care team